News Archive
News
BlueCrystal on the University's news pages before 2014:
University of Bristol student wins prestigious fellowship to attend top conference in the US
Nic Ellington, a student in the Department of Computer Science, studying for a MEng in Computer Science and Electronics, has been awarded one of only 25 places available on the SC12 Experiencing HPC for Undergraduates Program. SC12, being held this year in Salt Lake City in November, is one of the world's biggest supercomputing conferences. Nic recently successfully completed Simon McIntosh-Smith's HPC module and will have an opportunity at SC12 to hear about the latest developments in high performance computing and meet senior researchers from academia and industry.
Stories from 2011 and earlier
Research undertaken on BlueCrystal features in Nature Chemistry - http://www.bris.ac.uk/news/2011/7989.html.
BlueCrystal used for research into the dating techniques used to identify the origins of the living world - http://www.bris.ac.uk/news/2011/7875.html
'HPC Prime' award for the fastest code
The students taking Simon McIntosh-Smith's HPC module in the Department of Computer Science all took part in a competition to see who could produce the fastest code. The winner of the first 'HPC Prime' award is Bridget McErlean, whose code ran in just 6.1 seconds while correctly including the average velocity and total density calculations in every timestep. This represented about a 20X speedup over the optimised single core performance, an impressive achievement!
This year, the 'HPC Prime' title earns a high-end, 2 TFLOP FirePro V7800 graphics card worth around £400 which has been kindly donated by AMD.
Formal opening of Research Data Storage Facility Weds 2 February, 2011
The Research Data Storage Facility was formally opened by Professor Guy Orpen, Chair of the HPC Board on Wednesday 2 February.
The opening is featured on the University web page.
HPC module taught in Computer Science from September 2010
An HPC module was run in Semester 1, 2010 led by Simon McIntosh-Smith. The module was only available to students from the Department of Computer Science in 2010-2011, but from 2011, will be available to students from other departments. Full details are available here - http://www.cs.bris.ac.uk/Teaching/Resources/COMS35101/
University of Bristol logo displayed at SC10 - November 2010
Simon McIntosh-Smith was on the SC10 programme committee for the first time, and in recognition of this, if you look right in the middle of the banner (4th row) pictured below, you'll see the UoB logo. This banner was right inside the main door and would have been seen by all 14,000 delegates.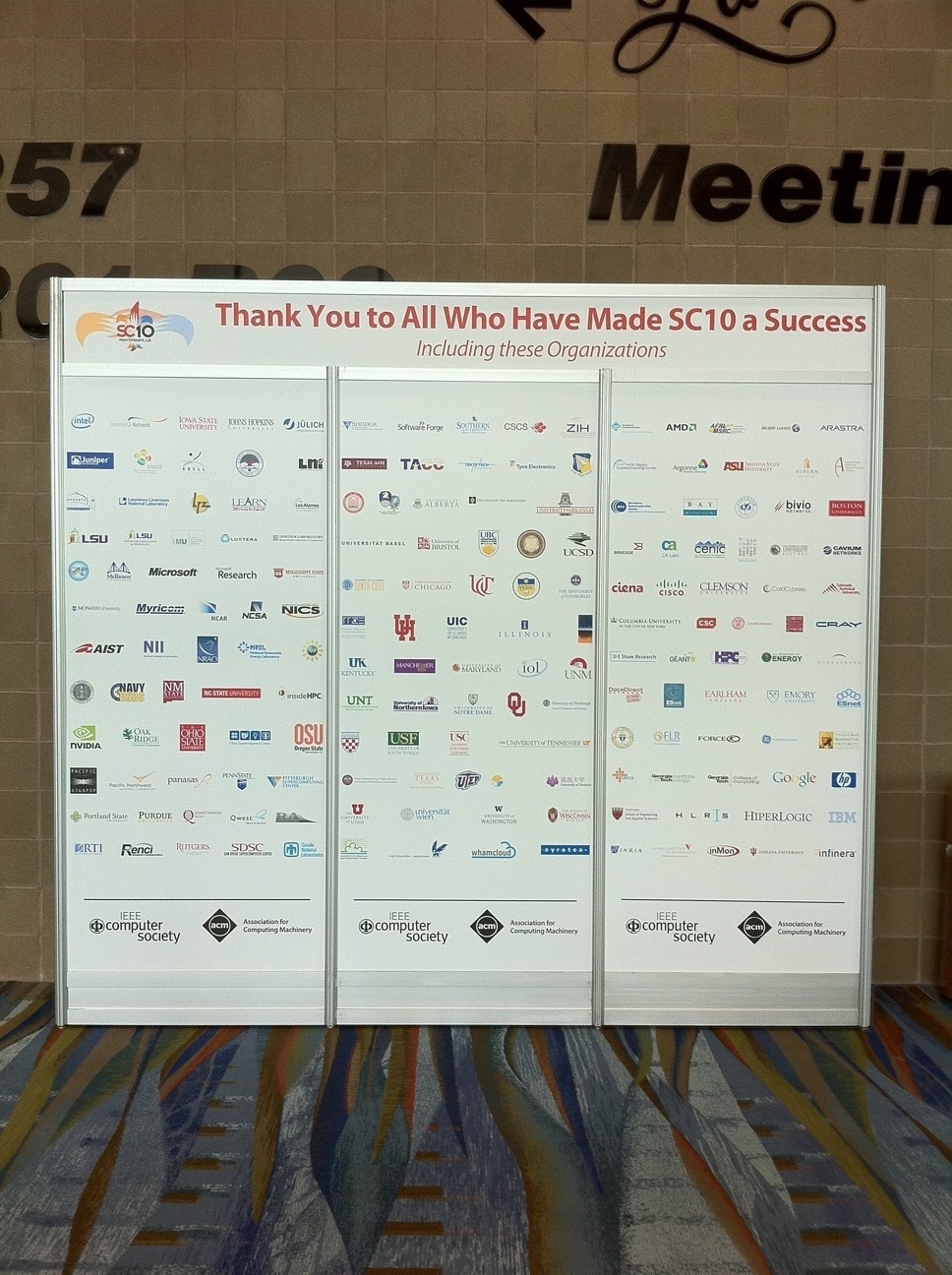 Large Hadron Collider data now being processed on BlueCrystal - March 2010
The Large Hadron Collider is now producing data - http://www.bris.ac.uk/news/2010/6936.html.
BlueCrystal is featured in Chemical Communications
There is a picture on Bluecrystal on the inside cover of the current edition of Chemical Communications -
http://www.rsc.org/delivery/_ArticleLinking/DisplayArticleForFree.cfm?doi=c004073h&JournalCode=CC
The article on Computational Enzymology by Professor Adrian Mulholland, Dr Richard Lonsdale and Dr Kara Ranaghan is described here - http://www.rsc.org/Publishing/Journals/CC/article.asp?doi=b925647d
HPC user shares in Gordon Bell award - November 2009
As reported on the University's News page, Dr Rio Yokota, an HPC user from the Department of Mathematics was part of the team who won a Gordon Bell prize at SC09.
International modelling prize retained with the help of BlueCrystal - November 2009
A team of students using BlueCrystal to model their simulations have won a gold medal and a prize for Best Model at iGEM 2009, the prestigious international competition in the field of synthetic biology. The team from the University's Bristol Centre for Complexity Sciences, who won a bronze medal and the Best Model prize at iGEM 2008, (as featured in our News Archive) retained the Best Model prize and upgraded their medal to gold.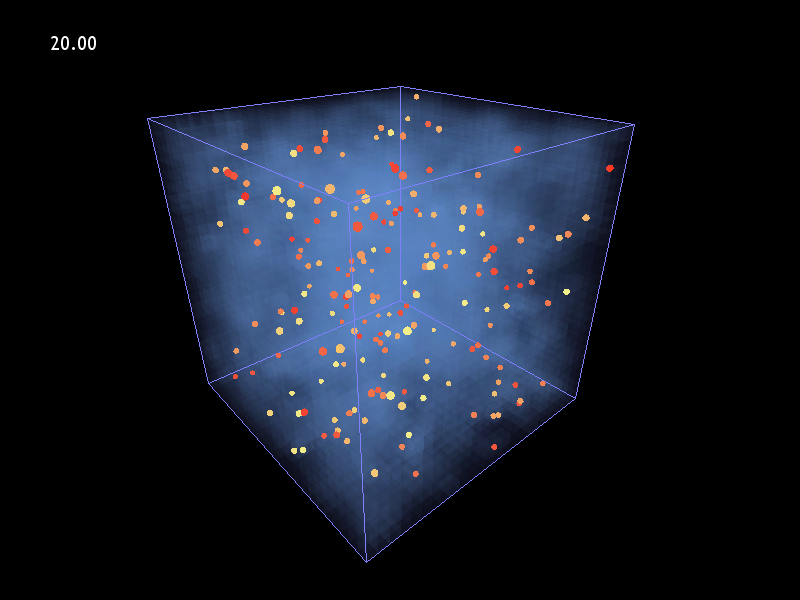 The team's project, 'Vesecure' aims to improve communication between bacteria by developing new methods of packaging signals – a technique that could potentially play a role in many different fields, including drug delivery. The modelling work extended and improved an agent based computational framework developed by last year's team, called BSim. A range of new features were added, including a switch to a more realistic and computationally demanding 3D environment. However, the advance that most impressed the judges was the ability to incorporate multi-level models into the simulations. This allows for the biochemistry within a single cell to be modelled in parallel with physical interactions between populations of bacteria.
These types of simulation are computationally expensive, but using Blue Crystal, the team were able to run large numbers for a range of scenarios, helping to convince the judges of BSim's virtues.
Watch a simulation of one of the models on YouTube.
Chair of HPC Executive contributes to The Incredible Human Journey - May, 2009
Professor Paul Valdes was a programme consultant for The Incredible Human Journey, presented by Dr Alice Roberts http://www.bris.ac.uk/news/2009/6328.html.
Member of HPC Executive interviewed about Virtualisation- April 2009
Simon McIntosh-Smith was interviewed by Maggie Philbin in a Times supplement on virtualisation - pages 18-19
http://np.netpublicator.com/netpublication/n85269061.
Bristol HPC features in Scientific Computing World - March 2009
Scientific Computing World have featured Bristol HPC in an article about how scientists are using HPC to predict climate and weather more accurately and efficiently - http://www.hpcprojects.com/features/feature.php?feature_id=228.
Simulations Run On BlueCrystal Win International Prize - November, 2008
A team from Bristol led by Professor Mario di Bernardo, from the Bristol Centre for Complexity Science, has won the Best Model Prize at the International Genetically Engineered Machine (iGEM) Competition at MIT in Boston - http://2008.igem.org.
The project involved a team of postgraduates and undergraduates, researching a problem in synthetic biology, engineering bacteria so that they can be used to assemble micro-structures. BlueCrystal was used to carry out the intensive simulation of bacteria populations and the interactions between bacteria populations and with particles. Further details are available on the iGEM website - http://2008.igem.org/Team:BCCS-Bristol, including the results obtained from the simulations.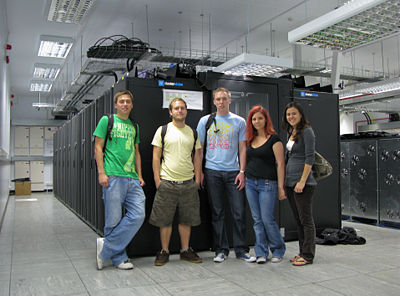 Some of the winning team in front of BlueCrystal.
Re:search Supplement - High Performance Computing issue
In 2008, we produced a HPC themed re:search supplement with contributions from a number of HPC users. It gives an excellent insight into the research being done at Bristol using BlueCrystal. Many thanks to all the contributors.
Download a PDF version here.
If anyone would like a paper copy, please contact Caroline Gardiner.
IBM PhD Fellowship awarded to Bristol Student - 6 March 2007
Marc van der Kamp, a PhD student in the School of Chemistry has been awarded an IBM PhD Fellowship. Marc's PhD project is part of the European Union BRISENZ Marie Curie Early Stage Training Centre for enzymology at the University of Bristol. His research work in this project has demonstrated the biological insight that high level computational modelling can provide into the fundamental mechanisms of enzyme catalysis. Understanding how enzymes (biological catalysts) work has important potential benefits in the design of new drugs and enviromentally friendly catalysts.
Marc and his PhD supervisor, Dr Adrian Mulholland, plan to use the new HPC facilities as part of the Fellowship project, to model enzyme-catalysed reactions. Problems of biological catalysis can now be treated with unprecedented accuracy, opening new areas of biology to computational investigation. Recent results have shown that it is now possible to perform electronic structure calculations on large systems approaching chemical accuracy, allowing quantitative studies of reaction mechanisms in enzymes. This development opens new horizons for theoretical biochemistry and many other areas of computational chemistry.
The IBM PhD Fellowship Program honours exceptional PhD students in disciplines of mutual interest, awarding the student tuition, fees and a stipend for one nine-month academic year, plus the option of an internship with IBM. Details of the scheme are available at http://www-304.ibm.com/jct09002c/university/scholars/fellowship/phd/. Nominations for the 2007-2008 academic year have closed, but nominations for 2008-2009 will be invited later in the year.
Events
HPC symposium Thursday 10 April, 2014
A HPC symposium was held on Thursday 10 April and also provided an opportunity to celebrate the launch of Bristol as an Intel Parallel Computing Center. The programme included speakers from Intel giving an insight into the future of parallel programming models and a number of Bristol researchers talking about their use of BlueCrystal and particularly of Phase 3. The presentations are here.
Social Sciences Data Workshop, Wednesday 9 November, 2011
A Social Sciences data workshop, on support for the use, management and storage of (complex and/or large) datasets, was held on Wednesday 9 November.
Topics/speakers included:
Bristol's High Performance Computer (HPC) facility - Caroline Gardiner and Dr Ian Stewart (ACRC), plus reflections from academic users, Professor Frank Windmeijer and Dr Paddy Carter, (Department of Economics).
The University's Research Data Storage Facility (RDSF) - Dr Paul Clarke, (CMPO).
Exabyte Informatics support for research data - Professor Peter Flach (Department of Computer Science).
ESRC data policy and data management plans and ESRC's secondary data initiative call - Dr Jude Hill (RED) and Mary Jane Steer (Library).
HPC Symposium, Wednesday 2 November, 2011
The 6th HPC symposium was held on Wednesday 2 November, 2011. The theme of the symposium was BlueCrystal: Present and Future. The presentations are available here.
MRSC 2011 held in Bristol, 11-13 April, 2011
The Many-core and Reconfigurable Supercomputing Conference (MRSC) was held at the University of Bristol on 11-13 April, 2011. The Chair of the conference is Simon McIntosh-Smith, Senior Lecturer in Computer Science and a member of the HPC Executive.
Further details are available on the MRSC website.
Multicore Programming Event - Monday 5 September
This event was organised by the BCS and Simon McIntosh-Smith was one of the speakers.
5th HPC symposium Wednesday 10 November, 2010
The 5th HPC symposium was held on Wednesday 10 November. The theme of the symposium was Smarter use of data and the presentations are available here.
4th HPC Symposium Wednesday 21 October, 2009
The 4th HPC symposium was held on Wednesday 21 October. The theme of the symposium was Latest Trends in HPC. The presentations are available here.
Managing Data: Advanced Research Techniques for the Arts and Social Sciences - Thursday 18 September, 2008
Aroumd 50 people from across the South West attended a workshop at the University exploring some of the issues surrounding managing the large quantities of data which research now generates. Speakers included: Dr David Fergusson, Deputy Director, Training, Outreach and Education, the National e-Science Centre, Professor Peter Flach and and Dr Richard Harris, both from the University of Bristol, Dr Stuart Dunn talking about the Arts and Humanities e-Science Centre and Dr James Reid, Team Leader & Business Development Manager, Geoservices, EDINA National Data Centre.
Recordings of some of the talks and slides of all the talks are available on the NeSC website -
http://library.nesc.ed.ac.uk/resolve/resolver.jsp?rft_dat=lib:9669&svc_dat=details .
3rd High Performance Computing Symposium - Thursday 18 September, 2008
The 3rd HPC symposium was held on Thursday 18 September and we heard from some of the researchers who have been using BlueCrystal the most over the last few months and from Graham Pryor the Deputy Director of the Digital Curation Centre in Edinburgh.
The presentations are available here.
HPC facility opened by the Vice Chancellor - Thursday 1 May, 2008
The HPC facility was formally opened by Professor Eric Thomas, Vice Chancellor of the University on Thursday 1 May.
The Press release is here.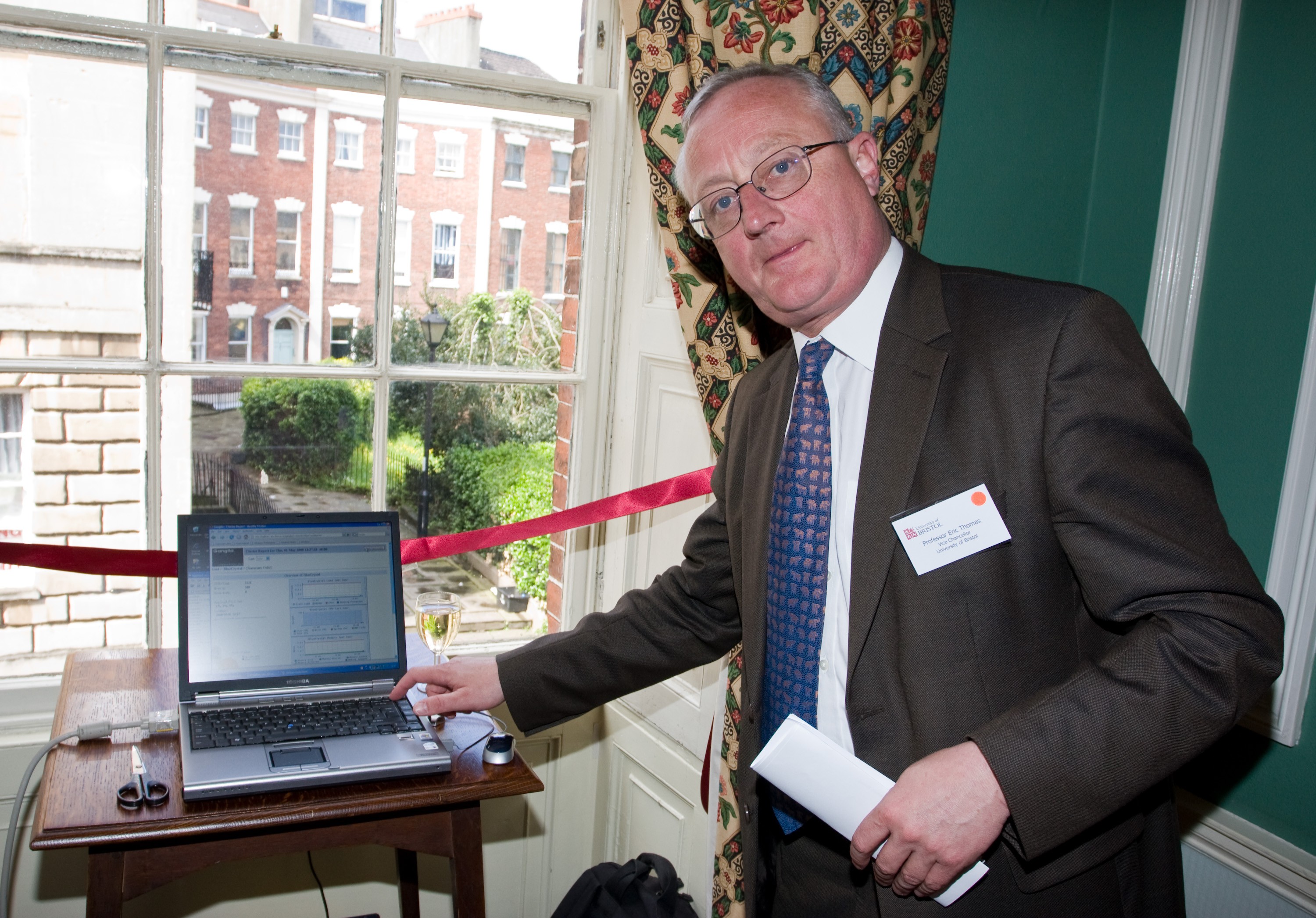 The Vice Chancellor launches the first job on BlueCrystal.
Image courtesy of Timo Kunkel.
The event is also covered on HPC Wire, Computing, Scientific Computing World and Computer Weekly.
HPC Seminar with John Gustafson - Wednesday 30 April, 2008
We were delighted to host a seminar with John Gustafson, Chief Technology Officer, HPC from ClearSpeed. John gave a fascinating talk on The Return of Acceleration Technology . A copy of his presentation is available here.
Second HPC Symposium - Wednesday 21 November, 2007
The 2nd HPC Symposium had a theme of Novel Technologies, looking at technologies such as IBM's GPFS and ClearSpeed's accelerator boards. The programme and the presentations are available here.
First HPC Symposium Wednesday 31 January, 2007
Nearly 40 people attended the first High Performance Computing Symposium on Wednesday 31 January 2007. In addition to members of the University from the Faculties of Arts, Engineering, Science and Medical and Veterinary Sciences, we were joined by representatives from IBM, ClearSpeed and ClusterVision, our partners in the HPC collaboration.
The programme and the presentations are available here.
Press releases
June 2006: Announcement of new High Performance Computing Initiative
There may be documents on this web page in PDF format. In order to view a PDF you will need Adobe Acrobat Reader.